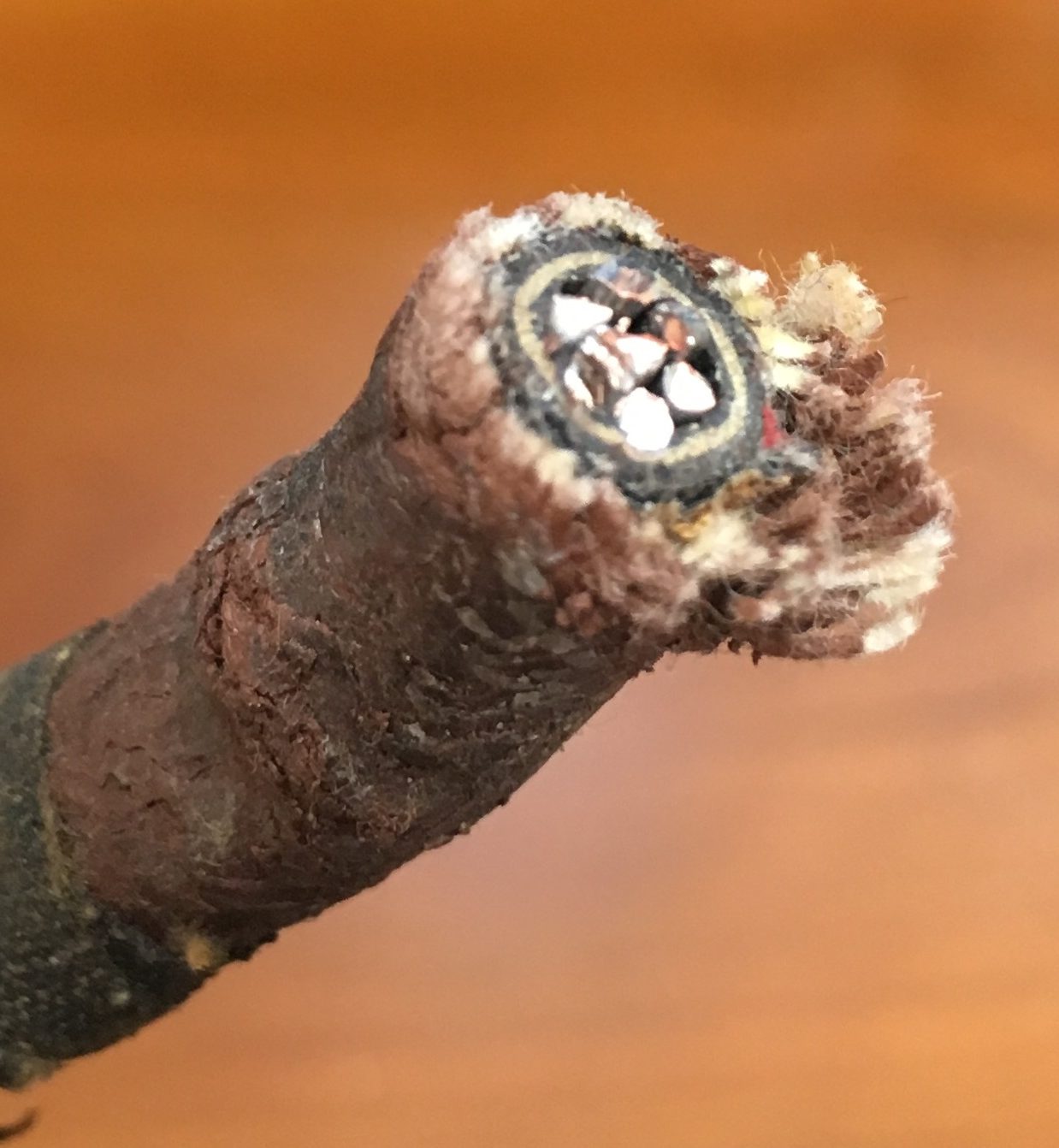 Are you the landlord of a multi-tenanted property built prior to the 1970s?
If the answer is yes, are you also confident that your property, residents and visitors are not at risk from power failure, electric shocks or fire from VIR Lateral Mains failure?
VIR Lateral what?
In buildings with more than one consumer (and electricity meter), lateral mains are the cables that carry the electricity supply from the ground floor fused cut-out (the responsibility of the Distribution Network Operator or DNO which owns the local public electrical network) to the other consumers in the block.
Before the introduction of PVC, electrical cables normally used Vulcanised India Rubber (VIR) for insulation and protection. VIR Lateral mains continued to be installed until the early 1960's.
Unfortunately, rubber is perishable. The photo above shows a typical cotton braided VIR cable. While the cotton braid provided some mechanical protection to the rubber, these cables are now 60 plus years old.
Once the rubber sheathing on the cable becomes brittle, just like an old elastic band, it starts to crack and break away. When this happens, the copper in the cable can become exposed, leading to a potential risk of electric shock, fire or an immediate loss of power due to a short circuit rupturing the protective fuses.
Why is this my responsibility?
In the light of the Grenfell Tower disaster, the safety of tenants has become headline news for all landlords and housing providers in the UK.
Under The Landlord & Tenant Act 1985 and the Occupiers' Liability Act 1957 and Occupiers' Liability Act 1984, Landlords are legally obliged to ensure that the electrical installation in a rented property is safe when a tenant moves in and is maintained in a safe condition for the duration of the tenancy period. They also have a legal duty of care for anyone vising the premises.
In the 1980s, the DNOs gave notice that they would no longer be held responsible for lateral mains. Prior to this, lateral mains were installed by the local Electricity Board or DNO and fully maintained by them. DNOs work to different regulations and their installations – particularly prior to the 1960s – are rarely fully compliant with BS7671. The term Building Network Operator was created to enable suitably qualified organisations to take responsibility for lateral mains.
It is the responsibility of the building owner or duty holder to appoint a Building Network Operator (BNO) to maintain lateral mains, to ensure they are compliant with BS7671 in exactly the same way as the wiring systems elsewhere in the building.  However, whilst the entire financial responsibility remains with the freeholder, the Distribution Network Operators (DNO) and their Meter Operators will only allow reconnection if the improvements are strictly in accordance with BS7671 and their own guidelines, often making renewal of these cables extremely complicated.
What can I do to avoid a potential disaster?
Lateral mains are now considered part of the Landlord's Wiring System and should be subject to inspection and test. Since the change from using VIR to using PVC took place over a number of years, we recommend that all structures with lateral mains built before 1975 should be subject to a brief check when an electrician is on site, to determine whether VIR lateral mains exist.
If flats are found to be supplied with VIR lateral mains, it makes very good sense for landlords to budget for a VIR replacement programme, to ensure all old cables are replaced before they actually fail. This proactive approach reduces the risk to an acceptable level. Of course, newer blocks must also be maintained and subject to an EICR in accordance with BS7671.
Why should I use DSA Electrical?
With 25 years of experience working with Social Housing providers, we understand the pressures faced by Landlords to make budgets work and keep their tenants safe and happy.
Our close links with the Distribution Network Operators, together with our precision planning and innovative approach enable us to project manage the entire process of VIR lateral mains replacement as BNO on time and on budget, with minimal disruption to residents. Our exceptional KPIs are testament to the care and consideration taken by our engineers and client liaison team.
"Experienced, expert, innovative and knowledgeable is how CHP would describe it relationship with DSA Electrical" Mark Atkins, General Practice Surveyor, CHP
"Despite multiple variations in the specified works, DSA Electrical consistently delivered high quality electrical work. Their expertise and ability to adapt quickly allowed the project to be completed within the tendered sum, and without complaint." Richard McGeehan, Electrical Engineer, Butler & Young Associates
Case studies on VIR Lateral Mains can be found here.
Please visit our Services pages for more information about the other services we provide.
If you would like further information on how DSA Electrical can help, please email info@dsaelectrical or call 01245 478970.