To end National Apprenticeship Week, we thought it would be fun to catch up with one of our former apprentice Rob Hawksworth who is now our Contracts Director!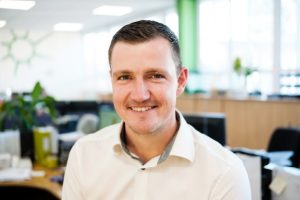 Rob, you're now our Contracts Director, but when did you start out as an apprentice and how old were you?
I joined DSA Electrical 15 years ago at the age of 21.
Why did you decide to join DSA Electrical as an apprentice?
Well I nearly went to university. I was on the verge of applying, but I just fancied doing something more hands-on. I actually started my apprenticeship with another company in Chelmsford but it was quite specialised – I basically spent about two years installing floodlighting for rugby pitches. I wasn't getting any testing or domestic experience, so I left and joined DSA Electrical. I suppose the other factor in choosing the electrical industry was that my Dad and Grandad were both electricians so I guess it runs in the family.
What do you remember most fondly about being an apprentice. What were the best bits? 
At the time I joined there were a really nice bunch of other apprentices. I had some good teachers and the company was just really easy going and nice to work for. And of course I was earning a few quid and my mates weren't!
What were the biggest challenges?
I remember feeling quite frustrated that I wasn't allowed to do too much to start with. In the early days you think you know everything but you don't.
Did you imagine back then that you'd end up as Contracts Director? What were your goals and ambitions at the time?
No I never imagined it! I don't know what my ambitions were really – I think I was just focussed on getting qualified.
What qualities do you think you need to be a good electrical apprentice?
You've got to have good time management skills and have an appetite for learning. You have to really want to do it, not just be pushed into it.
What advice would you give any aspiring apprentices?
Show you're willing. Turn up on time. That's half of it really. Listen to everything you're being told. And I suppose, find your own way of working. There are lots of different ways of doing things, you've got to find the approach that works for you.
What's a typical working day for you now?
Well, I might plan my day, but it can change like the wind. I've got to be really flexible and be able to react and respond to requests from clients and my reports. I've got to make sure I'm there to support my team and make sure they're OK. It's a balancing act!
When you're not working Rob, how do you like to relax?
Golf is my main hobby. But I've also been doing a lot of exercise lately, running and walking. And who doesn't like a bit of telly at the end of the day?