As part of National Apprenticeship Week, we're talking to our Apprentices to find out more about them and their experience of what it's like learning to be an electrician. Today we're meeting James.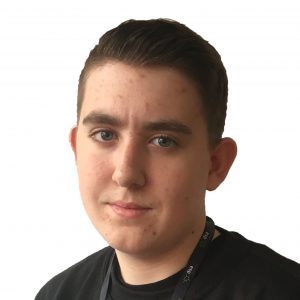 James, how old are you where and where are you from?
I'm 18 and I'm from Chelmsford.
How long have you been an apprentice and what stage are you at?
I started my Apprenticeship in September 2019 and I'm in my 2nd year.
Why did you decide to be an Electrical Apprentice?
I enjoyed studying it at school (Boswells) – I did Construction in the Built Environment and liked the electrical trade element. I asked around some local companies and got myself work experience at DSA Electrical. I spent every school holiday for a year doing work experience and enjoyed it so much I applied for an Apprenticeship as soon as I could.
What's a typical day for you working at DSA Electrical?
It all depends on the project. I'm currently working at Clacton Town Hall doing electrical refurbishment work, rewiring, sockets, lighting, fuseboards etc. I've been here about 7 months? We typically start at about 8am and finish up about 4-4.15pm. Before that I was at a care home in London. Our hours then were about 7am to 2pm, but then we'd meet back up at the office about 5pm.
What's the best part of the job?
It's all good really. I enjoy the commercial work – there's a lot more variety and I like working on new installations. My favourite project is probably the one I'm on now – it's just a really good team.
What's the most challenging part of the job?
I don't find the practical work too hard – I'm quite confident with that. The theory can be really difficult though.
What are your goals or ambitions for the future?
Once I'm qualified and have enough experience to feel comfortable I'd like to be self-employed eventually.
What qualities do you think you need to be a good electrical apprentice?
You've got to be hardworking and open to learning new things.
What advice would you give anyone considering an electrical apprenticeship?
Try and take every opportunity you can to get work experience before applying for an Apprenticeship.
How do you like to relax when you're not on-site or doing college work?
I'm a bit of a petrol head, so probably working on my car and my superbike.