As part of National Apprenticeship Week, we're talking to our Apprentices to find out more about them and their experience of what it's like to be an Apprentice. Today we're meeting Ben.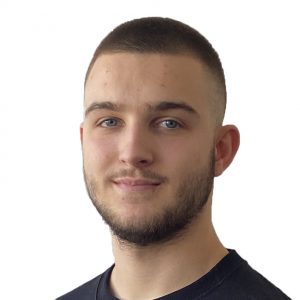 Ben, how old are you, and where are you from?
I'm 18, and I'm from Billericay in Essex
When did you become an Electrical Apprentice and why?
I left school after Year 11 and started studying to be an Electrician at college to continue my education. I didn't really know what I wanted to do if I'm honest, I just wanted to continue learning. I didn't realise how much I would end up enjoying it. Unfortunately, my college course was interrupted by the Covid pandemic in March last year when I was at Level 2. Thankfully it resumed again when I got my Apprenticeship at DSA Electrical in September last year. I'm now working on Level 3.
Can you describe a typical day while working with DSA Electrical?
It's difficult as every day is different – I really enjoy it. I get on well with everyone in the team – we all have a good laugh but everyone knows when to switch it on and knuckle down to getting a good job done. Some really good people have helped me to problem solve and gain more confidence. So far, I've experienced a mix of commercial and domestic work. I'm currently working at a care home which involves a bit of both. 
What do you enjoy most about the work?
One of my best jobs was working at Kensington Palace. It wasn't just the location, I got to work with some really great people who didn't push me too hard out of my comfort zone, but eased me along so I could build my confidence. We've got some good friendships going now. I think I prefer the commerical work, mainly because I feel I learn ten times as much in a week on a commerical site, compared to a domestic job. It feels really good after a day's work knowing you've learnt loads.
What do you think are the most challenging elements of your Apprenticeship?
I think the theory behind what we're doing. Understanding the science behind why we use certain materials or techniques is challenging. But the college work is helping to bring all of that together.
What are your career goals for the future?
At the moment I'm just focussing on qualifying as soon as I can, so my goal is to finish my Apprenticeship after 4 years. I'm enjoying being at DSA Electrical – they're a really good team.
When you're not working or studying for college, how do you like to relax?
I really love my football and used to play with my mates for Brentwood Great Danes, but I left when I started my Apprenticeship so I wouldn't be too tired on a Monday morning. I really miss it, so I'm looking forward to getting back into playing football once the Covid restrictions are lifted. Other than that, at the moment, just spending time with family and keeping in touch with friends is really important.
What advice would you give to anyone considering an Electrical Apprenticeship?
Just give it a go. You'll never know how much you'll enjoy it unless you try. I'd heard that working on site was a really different experience to that of college. I was quite scared before starting on a building site – it was an intimidating thought. But I really love it now.