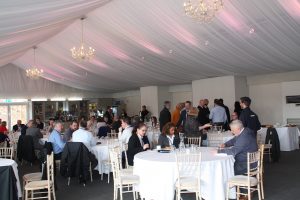 Delegates enjoyed networking over a buffet lunch
The new year is traditionally a time to reflect on the previous year and look forward to plans for the year ahead. What a year 2020 was for everyone! It was a hectic start to the year, with very busy periods for several of our large housing clients. But with determination and excellent teamwork, we managed to successfully deliver all the work.
We held our successful annual seminar for clients on the 6th March at Braxted Park, which was very well received. We were fortunate with the timing as just a couple of weeks later, and the event would have had to have been cancelled. In March, we launched our new website and updated corporate identity, which better reflects our personal approach to serving our clients and shows a good range of our work.
Then lockdown hit and the rug was pulled out from under our feet. Many of our staff had to go on furlough and a skeleton staff covered the office with others working remotely from home. Much of our housing work ground to a halt as our clients paused inspection and testing programmes to protect their residents. Gradually, restrictions eased, work programmes recommenced, and our engineers were back out visiting homes with stringent protocols to safeguard themselves and residents from Covid-19. To date, we have not had a single confirmed Covid case for our engineers working in peoples homes.
The pandemic has undoubtedly tested our ability to innovate, work flexibly and adopt new methodologies beneficial to the business. We have won quite a few new Commercial projects this year, and have tendered for some new social housing contracts. So much so that we have recruited two new apprentices and more engineers to deliver the new work.
At DSA Electrical, we're a reflective organisation and always keen to improve when things don't go to plan. Having so many team members on furlough and coping with a skeleton staff has been challenging. We're so proud of the team for managing to get through it. Not being able to recognise, reward and celebrate the team's extraordinary efforts with a summer or Christmas party has seemed incredibly unfair.
On the positive side, we're proud of being able to pay all our furloughed staff two full weeks' pay at the beginning of the first lockdown. We've reviewed and improved the efficiency of our internal procedures and we're delighted with the positive environmental impact we've seen during the pandemic with a considerable reduction in paper usage and vehicle emissions thanks to remote working. Our materials purchasing and stores have been streamlined and reorganised to good effect. We also had an excellent ISO audit despite the difficult circumstances.
Looking ahead to the coming year, we are trialling a new cloud-based business management system to facilitate remote working, increase efficiency and obtain more feedback from clients. We are also assessing our commercial strategy to focus our energies and resources better. We're looking forward to a time soon when we can all physically get together to celebrate and honour the effort and resilience of the DSA Electrical team. We are nothing more than our people, and the whole team has risen to the past year's challenges magnificently. With the UK Government's commitment to continuing commercial and domestic construction work, we have every reason to look forward to the opportunities that 2021 brings!
DSA Electrical would like to thank all our clients, suppliers and partners for their support during 2020 and wish everyone a healthy and happy New Year.