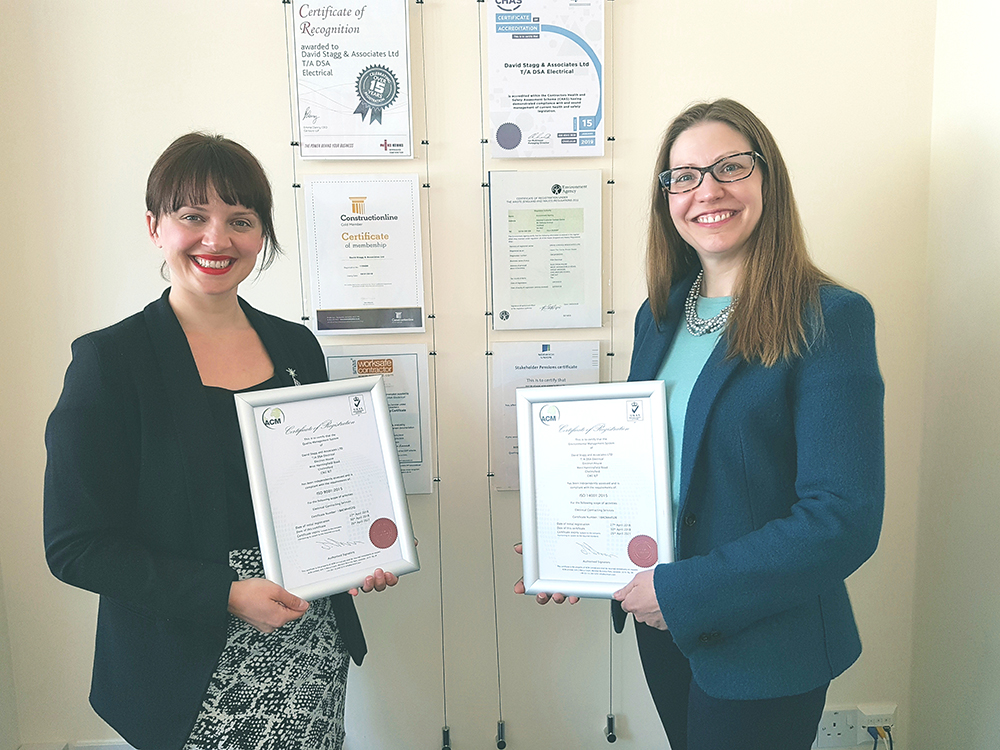 DSA Electrical are delighted to announced the company's award of ISO Certification ISO 9001:2015 (Quality) and ISO 14001:2015 (Environmental), by ACM, a UKAS accredited certification body.
The ISO 9001 standard focuses on quality management systems and performance. It assists companies in developing a management system that aligns quality with their wider business strategy. There is a focus on risk-based thinking and accountability in all organisational processes that helps improve communications, efficiency, and implementation of continuous improvement. ISO 14001 recognises companies that have adopted environmentally responsible practices in their business processes.
Ahead of the four-day review, DSA Electrical sent four of its staff members on internal auditor training to ensure the organisation was thoroughly internally audited prior to the ISO audit and to enable the company to continue a programme of ongoing self-assessment.
DSA Electrical's Managing Director, Rachel Richards (pictured above right with Head of Compliance, Donna Kennedy) commented: "After months of preparation and hard work, we are absolutely delighted to be awarded ISO certification. DSA Electrical's core company values are Innovation, Excellence and Integrity and ISO certification is recognition by an international organisation of how we embody these values in everything we do." She added: "In addition to our Constructionline Gold and CHAS membership, ISO certification demonstrates our commitment to efficiency, excellence and environmental integrity. Our SHEQ management and team of highly skilled NICEIC approved technicians mean we are able to deliver our contracts on time and on budget to our public sector clients."
International Organisation for Standardisation (ISO) is an independent, non-governmental international organisation with a membership of 161 national standards bodies. Through its members, it brings together experts to share knowledge and develop voluntary, consensus-based, market relevant International Standards that support innovation and provide solutions to global challenges. They give world-class specifications for products, services and systems, to ensure quality, safety and efficiency. Instrumental in facilitating international trade, regulators and governments count on ISO standards to help develop better regulation, knowing they have a sound basis thanks to the involvement of globally-established experts.